Everything You Need
That's our mission. To provide the wide range of communications and marketing capabilities that assist you in running your business. We are passionate about delivering quality products and providing you with the best possible service. This means we are well versed in the latest technologies. Handle projects large and small, simple to complex, and take you from idea to final execution quickly and efficiently. If you have a lot to do with little time to waste, let us take care of it. Enjoy the ease and confidence of working with a local resource that's part of a nationwide network—Sir Speedy.
Show-Stopping Quality
WeDo beautiful. Elevate your business marketing with a creative partner who has been turning ordinary into extraordinary for more than 50 years. We're known for producing exceptional quality – polished and professional materials that make your brand shine. For superior print, signs and marketing, we're your go-to, one-stop resource.
Creative Solutions
WeDo smart. Bring us your challenges, and we'll work with you to solve them with our extensive spectrum of products and services. We understand business life is filled with everything from finding new customers and keeping the ones you've got, to implementing new technologies. Let's meet and get those creative juices flowing!
Out-of-the-Box Ideas
WeDo inventive. Fresh thinking is a competitive advantage in a crowded marketplace, so when you need a resource who can produce something inspiring, look to your local Sir Speedy. We're up on the latest marketing trends and innovations, collaborating with you to explore exciting new ways of achieving your business objectives.
Lean On Us
The marketplace is demanding, so it's nice to know you've got someone in your corner and in your neighborhood – Sir Speedy. We care about your success, and as a member of the business community, we're here to help you grow and thrive. Share your dreams and goals with us knowing we work with customers from nearly every industry. Our breadth and depth of knowledge streamlines workflow, getting you to the finish line faster. So, lean on what WeDo so you can do what you do best.
Sir Speedy Statesville
436 South Center Street
Statesville, NC 28677
Business Hours
Mon - Fri 8:00 AM - 5:00 PM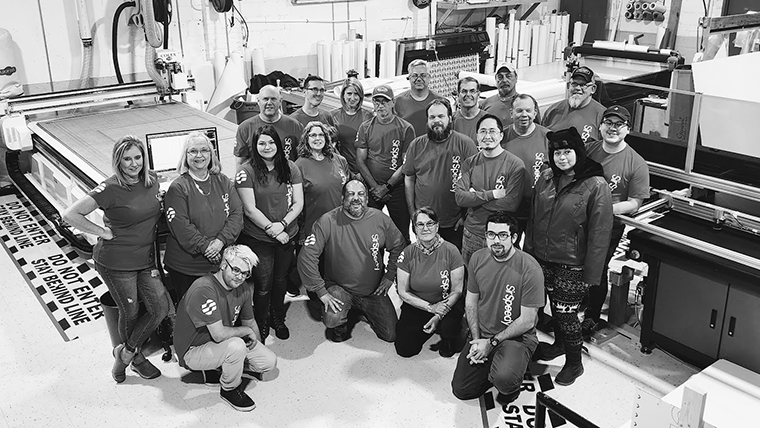 Utmost professionalism; kind, courteous and attentive staff. Turn around time was remarkable and product was top of the line. An absolute pleasure to work with.
Sir Speedy did an amazing job on our signage for Fidelity Law Group Statesville. They were prompt, professional, and very reasonably priced. The work product came out perfect. We will be using them for signage in the future.
Helpful and friendly! My order was ready before I expected it, and the quality was excellent
Sir Speedy is great to work with creating and supplying custom design vehicle wraps and business cards. We also rely on them to provide forms and other items. The team is responsive and courteous and provide quality products quickly.
I like to shop local whenever possible and Sir Speedy makes it so easy with their terrific customer service and comparable pricing. I have been a customer for nearly 10 years and highly recommend them to local businesses and new businesses in the area. Thanks so much for your quality of work, fair pricing and quick turnarounds!
Lori and the team at Sir Speedy was such a great help to me getting signs made for Shook & Tarlton Realty. They were quick to respond and the sign looks great. Will continue to do business with them in the future
very helpful and the price was right
We're always happy with the product Sir Speedy produces for our firm. Their customer service is top notch as well. Highly recommend.
Our form is perfect! And printing was completed very quickly as requested! Thank you, Sir Speedy!
Service and quality are always excellent! We enjoy working with Sir Speedy and their staff and look forward to many more projects together!
Once again, Sir Speedy has done an efficiient and excellent job on my printiing request. The quality of the work and the polite professionalism of the staff is always appreciated. Thanks again from Carolina Mountain Sports
I had my wedding invitations printed here. They were real easy to work with, affordable, and got done a day before their estimation. Invites were beautiful!
Sir Speedy did an excellent job on the signs for our conference. We needed same day turnaround and they delivered! Incredible!
Impeccable service! SIHS football is very grateful for the memorial banner SirSpeedy rushed during this difficult time. Thank you!
I was very pleased with Sir Speedy Print. It was not a problem for them to make the changes I was wanting before the finally print. Very pleased with working with them. I will be using them for any of my others projects.
Order a removal of a real estate sign and modifications prior to a re-install at a new location. The work was done in a prompt and professional manner. Would definitely use them again!
Marie was very helpful in producing and printing wedding bulletins for my nephew. Will definitely use them for my printing needs!
Sir Speedy designed a banner for my wife Gina's 55th Birthday. Very well done!
Great yard sign. Well designed.
Sir Speedy worked with me to create my perfect Advice cards for my wedding when I was unable to find what I wanted anywhere else. They were quick to respond, worked with my vision, and once the template had been created the production time was only a day! It was incredibly low cost for all of that amazing service too! I will definitely go back for future needs!
Fast and friendly service. Personable staff that helped answer all my questions and got me exactly what I needed. Highly recommend.
Sir speedy did a fantastic job on my storefront! We love the new sign! So bright and installation was done very professionally! Fast and friendly service :) -Andrea Andrea's Ice Cream & Sweet Shop Downtown Statesville
The staff is always friendly and helpful. I have used them for years and they always have great quality.
Custom items were made to order and on time. Great staff