All Products and Services
Sir Speedy Nashville Berry Hill
2400 Felts Avenue
Nashville, TN 37211
Business Hours
Mon - Fri 8:00 AM - 5:00 PM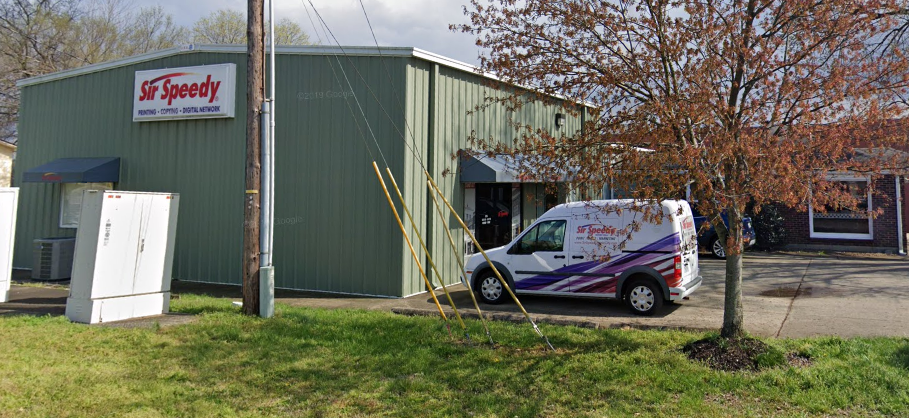 If Vince and his team at Sir Speedy aren't your go to company for signage, then here is your chance to work with the best. I needed some signs made for our hotel that were outdated and need of a new look. Vince was extremely quick to respond and even came out to the property to ensure our vision was clear to him, not something you get from the online stores. We received our signs in less than a week after the quote was signed and even had them hand delivered by Vince himself. In my world where relationships mean everything, these guys are some of the best!
Sir Speedy Berry Hill is our go to at Epiphany for small business owner projects. The quality is always impeccable and the turn around time has been beyond impressive. Grateful to have this service provider available to us! You keep our clients happy, and that makes us happy.
I needed several signs for a project that was set to start sooner than expected. I contacted Sir Speedy and was very impressed. Not only were they very responsive, but they were also inclusive in the process. I must say they more than exceeded my expectations. They were able to provide the various signs I required before the projected time. my hats off to the entire office for the great service they provided. Brian M. Parking Revenue Manager
I love working with Sir Speedy. They're quick to respond, professional and always work with me to find the right printing solution. I've worked with them for years and don't see that changing anytime soon!
Needed a same-day rush print job and they turned it around super fast. Both the team and the company's work product are high-quality. I'd definitely recommend them for your print needs!
Speedy, professional and responsive. Air Speedy helped me design exactly what I wanted. They were transparent on price and they got in done two days earlier than I asked! Britney is amazing! 10/10
Great service, repeat customer. Prompt and wonderful team to work with for quick turn around on print jobs.
Sir speedy is always on time and professional. We have built a wonderful partnership and with their great service would encourage anyone to use them for any of your printing needs. A+
I have worked with Risa at Sir Speedy for more years than I can remember. I completely trust her judgement as she uses her expertise to turn my ideas into printable projects. She never disappoints. She under promises and consistently over delivers. Thank you, Sir Speedy!
They live up to the name, that is for sure. Risa is great to work with and is always "speedy" with her response. Typically when we reach out, it is for something we need urgently, and usually within a few days. Risa is always good at fielding this and getting us what we need, ASAP. I highly recommend using SirSpeedy!
I've been working with the Sir Speedy team over on Felts for almost 2 years and they have ALWAYS done right by me. They are patient with me and my requests, with a quick turnaround time, and fast service when I need it. Everyone I've talked to there has been so kind and respectful. From work projects to personal ones, I cannot recommend this team enough. Thanks for all you do!
They continue to deliver a great quality wrap and meet the demands of our customers timelines. I will continue to use them for all our needs.
I can't say enough good things about and recommend Sir Speedy Music City highly enough. I have used them professionally and personally for decades. Yes, James and the staff are skilled and professional but just as important to me, whether it's a big job or small one-off, whether you have plenty of lead time or you're panicking with a last-minute need, the folks at Sir Speedy Music City are gracious and helpful. Whatever your printing needs, they're a company you can put your trust in.
David Seckman and the Sir Speedy Team have been our go-to for many years. David's easy approach to the big asks (and sometimes very time-sensitive) is always professional and top notch! He has educated me several times about new options available and has never led me astray. Our entire team has given the thumbs up to David and the Sir Speedy team, your should, too!
The Sir Speedy team is our go-to printer for everything we need at Vanderbilt-Ingram Cancer Center! The quality is always spot on, delivery right to my desk... Risa and her team are a joy to work with!
The team at Sir Speedy always is on the ball when it comes to anything I need for work such as banners, poster boards, etc. They are very responsive, helpful, and fast! Highly recommend.
We are so grateful to have such a wonderful team helping our marketing and signage campaigns. keep up the good work.
I immensely appreciate the professional team at this Sir Speedy. They always deliver a quality product on time and on budget.
The entire team at Sir Speedy are professional, friendly and all around wonderful to work with. They go above and beyond to make sure you are satisfied with their products with excellent customer service. I couldn't be more happy with our business partnership. Thank you team!