Everything You Need
That's our mission. To provide the wide range of communications and marketing capabilities that assist you in running your business. We are passionate about delivering quality products and providing you with the best possible service. This means we are well versed in the latest technologies. Handle projects large and small, simple to complex, and take you from idea to final execution quickly and efficiently. If you have a lot to do with little time to waste, let us take care of it. Enjoy the ease and confidence of working with a local resource that's part of a nationwide network—Sir Speedy.
Show-Stopping Quality
WeDo beautiful. Elevate your business marketing with a creative partner who has been turning ordinary into extraordinary for more than 50 years. We're known for producing exceptional quality – polished and professional materials that make your brand shine. For superior print, signs and marketing, we're your go-to, one-stop resource.
Creative Solutions
WeDo smart. Bring us your challenges, and we'll work with you to solve them with our extensive spectrum of products and services. We understand business life is filled with everything from finding new customers and keeping the ones you've got, to implementing new technologies. Let's meet and get those creative juices flowing!
Out-of-the-Box Ideas
WeDo inventive. Fresh thinking is a competitive advantage in a crowded marketplace, so when you need a resource who can produce something inspiring, look to your local Sir Speedy. We're up on the latest marketing trends and innovations, collaborating with you to explore exciting new ways of achieving your business objectives.
Lean On Us
The marketplace is demanding, so it's nice to know you've got someone in your corner and in your neighborhood – Sir Speedy. We care about your success, and as a member of the business community, we're here to help you grow and thrive. Share your dreams and goals with us knowing we work with customers from nearly every industry. Our breadth and depth of knowledge streamlines workflow, getting you to the finish line faster. So, lean on what WeDo so you can do what you do best.
Sir Speedy Chandler
335 East Warner Road
Suite 4
Chandler, AZ 85225
Business Hours
Mon - Fri 8:00 AM - 5:00 PM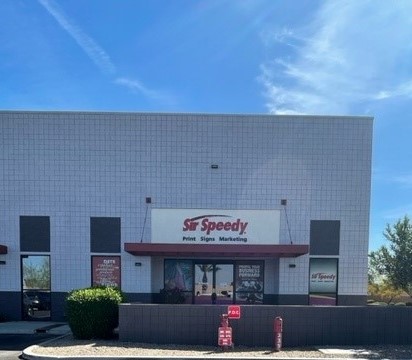 Exceptionally accommodating, prompt and friendly with an attention to detail and sense of urgency that leaves you feeling confident regardless of your deadline's approach.
I can't say enough positive things about this company they were so friendly, professional, and knowledgeable helped us get what we needed for a school function at a very reasonable price. Alisa helped us and 100% will recommend them to anyone
I called Sir Speedy because I needed to print some flyers for a presentation I had in less than 24 hours. My business partner realized she didn't order enough from the company she used; she didn't bother to contact them again. She believed they were not able to print more on time. So I said I knew a guy and I heard his company does great work fast. When I called Sir Speedy, I asked if it was too late for same-day service, and the sweet lady on the other end said, "Oh yes - we can get it done for you." I then spoke to another sweet lady, her name is Priscilla, and she helped me complete my order. I called around 10am and they were ready for pickup by 1pm! What!?! The quality of the flyers where amazing! Plus, Priscilla was so kind to introduce herself to me in person. Service was superb, the print job was spot-on, and your people are great!
This place is amazing. 5 🌟
Frank R. Howard (Frankie)
Support your local small business. They are very helpful and can help you with a variety of products. For us they have done embroidered hats, car decals, business cards,custom invoices,envelopes,signs, and much more. They go out of their way to make sure your order is correct and it's done fast.
This company helped us tremendously when we were in a bind! Cathy was helpful, professional, and responsive. Highly recommend!
I've had a few different invitations printed at Sir Speedy and I refuse to go anywhere else! The quality is above and beyond Staples or Fed Ex, both of which I have used before thinking they would be comparable but I always go back to Sir Speedy. The price is reasonable and I know that I can rely on the expertise of the staff to translate my vision into a beautiful and professional looking product.
Great service, quick turnaround, very reasonable pricing. Highly recommend them
Betsy and her team are ABSOLUETLY AMAZING. Their work speaks for itself. It is definitely a one stop shop. Very easy to work with and always have great ideas.
Oh my goodness!!! Amazing! We were in a pinch and needed some stuff printed and laminated on the same day and Sir Speedy came through! We called multiple printers and were given the cold shoulder and sass when asked if they could accommodate us on the same day. I am so glad that we called "just one more place" and got in contact with Sir Speedy! You guys are the best and will get our continued business!
We have worked for 10+ years with this business, and they have always been professional, timely, and thoughtful. About 2 years ago we had vinyl installed on our windows. It is about time for them to be replaced, so the vinyl started to peel back. When I let Sir Speedy know it wasn't in the budget to replace the vinyl immediately, they still sent a technician out to work with the vinyl to make it look as good as possible at no extra cost! Lovely, lovely people.
Fast friendly service. I brought in a memory stick with documents to be printed and it was done quickly and inexpensively.