All Products and Services
Sir Speedy Richmond
1638 Ownby Lane
Richmond, VA 23220
Business Hours
Monday: 8:00 AM - 5:00 PM
Tuesday: 8:00 AM - 5:00 PM
Wednesday: 8:00 AM - 5:00 PM
Thursday: 8:00 AM - 5:00 PM
Friday: 8:00 AM - 5:00 PM
Saturday: Closed
Sunday: Closed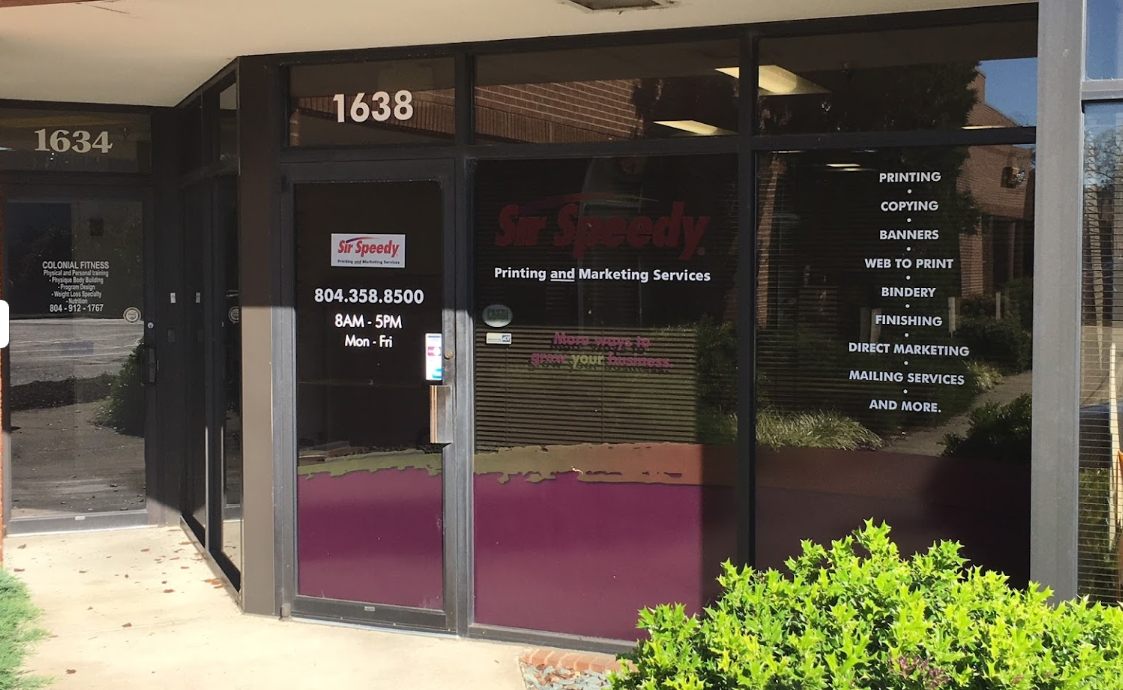 Sir Speedy recently helped us with a major, time-sensitive project. We were thrilled with the results and can't say enough good things about the service we received. In the midst of the project, we were thrown a serious curve ball, but Sir Speedy never missed a beat. The Sir Speedy team helped us navigate the changes and kept us calm in the process, assuring us that they had everything under control. And they did! Thank you Sir Speedy! You are truly the best.
I recently discovered Sir Speedy as a printing service and don't think I will use anyone else for my printing needs going forward. They are quick, efficient, and extremely attentive to your order.
Lawn Doctor of Greater Richmond
We are very pleased with price, customer service and the door hangers that we ordered. Everything was completed in a timely manner too. We will be going back when we have a need for local marketing material. Thank you!
Ben and Ella provided incomparable service for me and my family after we had been let down by other printers. They handled our rush job expertly and left us feeling taken care of and understood in a difficult situation. I cannot recommend them highly enough.
Working with Sir Speedy has been a pleasure. They have consistently printed high-quality business cards for me and my colleagues. Their attention to detail and prompt service have made the entire process seamless.
I've used Sir Speedy a few times for work, and they are super easy to work with! Very helpful with advice when needed, and understanding of tight deadlines and quick turnaround.
Sir Speedy was fantastic! Harrison, in particular, really helped me understand the paper options and the in's and out's of digital printing. We will be using Sir Speedy again for sure!
I have used Sir Speedy multiple times for signage for use on my project sites. The crew is responsive, detailed and has great customer service!
Sara and Harrison were an excellent bunch to connect with. They quickly put together design work and printed a rush job for me while visiting from out of town. Prices are reasonable! Will be back again. Thank you!!
I love working with Sir Speedy! Harrison and Kati are very prompt in their communications and collaborate well with the customer. We've used them twice for an annual appeal mailing for our non-profit and could not be happier with the output. Their prices seem very reasonable too. We will continue to use them for future printing projects and recommend them highly for their professionalism and high quality product.
I recently worked with the Sir Speedy team in Richmond, VA. I asked for their help with a rather complicated project. I had a vague idea of what I wanted, but little knowledge of possible costs and materials. The Sir Speedy team was very patient and helpful in showing me several options. They soon realized that I needed to expand my ideas, so we explored several more solutions and I finally made my choice. It took me quite a while to produce and bring in my originals. Once I completed my part, the Sir Speedy team gave my project their full attention. This staff took particular care to produce several lovely and unique products that I am proud to present to some highly deserving organizations. I recommend Sir Speedy to anyone needing special care with a unique project!
Right from the first phone call to Sir Speedy, I knew I would be working with industry professionals. And sure enough, the finished product was more than I had expected....the quality was SUPERB. Which matches the customer service I enjoyed. Thank you All At Sir Speedy.
I have been using Sir Speedy for some time now. Their personnel are friendly and good at their jobs. I have never had a problem getting printing done exactly as designed. Online file upload works flawlessly, and I get feedback as soon as the work order is received. They have even gotten work completed with ridiculously tight deadlines! Looking forward to working with Sir Speedy in the future.
Sir Speedy on Ownsby Lane, Richmond always does an excellent job for St. James's. When we ask for a job to be done quickly, they always come thru. Great customer service and quality products.
Sir Speedy did a great job on our banner including the installation. The job was a bit complicated due to the curve of the desk but it looked terrific. We receive many compliments and also it was very eye catching. They were also great to work with!
Sir Speedy is speedy for sure! They are attentive to my needs and go above and beyond to provide A+ customer service! Highly recommend!
These guys are great. My receptionist had a lot of glare coming in from the parking lot. Sir Speedy sent someone to my office to evaluate the situation and recommend the best solution. And they recommended the cheaper solution! The job was completed quickly and my receptionist is very happy.
Fast turnaround and Quality printing. I had a small print job and I received the same care and attention to detail as though my print job was of the highest priority. Very professional service, We will use them again, thank you Sir Speedy!
I am VERY pleased with the retractable banners I recently had printed at Sir Speedy-Richmond. The staff was extremely helpful in making sure the graphics I provided would print well and they did. They turned out beautifully! I have been using this location for almost 20 years for other print needs and they have always done a very professional and timely job for me.
The team does a great job of turning my ideas into reality! And they have a fast turnaround time, too!
We've been working with Sir Speedy for years to produce our program books and they ALWAYS deliver a perfect product.
Fast and friendly service. Reasonable prices. Quality product. Will be my go-to printing service from now on!
You guys have been absolutely wonderful, very flexible, understanding, and always trying to meet the customers need. We really appreciate all that you and your team does.
I was in the middle of a work emergency needing something printed. I called the store to see if they would be able to help with my dilemma and the staff told me they could help and told me to come right in! I went for what I need done and had time to spare! There team was amazing!!!!
Quick ship, beautiful printing job. Will def use again.
Capable and considerate! Sir Speedy turned around a tight-timeline project with great quality and phenomenal communication. As the experts they are, they asked thoughtful questions that I hadn't considered. Without them, I'm not sure my project would have been such a success! The print quality was top notch and their price right on point. I will definitely be considering them for future projects for my clients. Katelyn Branding/Communications Strategist and New Sir Speedy Fan
I was too late to get Christmas photo cards done online and had almost given up the idea. Called Sir Speedy - they designed it and had them done in about 48 hours! Great experience and wonderful customer service!
Very friendly and attentive customer service. I purchased a rush order and the price was less than other quotes for 3-5 days processing. Friendly and welcoming. Did a quality job. Will be returning.
I will definitely use them again. They provided digital brochures for social media posts.
The team at Sir Speedy Richmond was amazing from start to finish. Our holiday card turned out perfect AND they printed the addresses and posted all 200 cards! Best deal EVER! The amount of time it saved our family is priceless. Thank you!
Always a pleasure & super fast responding 🙌🏽 & production (well it's in the name lol) We have been using tHem for over 10 years Thank you sir speedy !
I had a great experience with this company! Everyone I spoke to was so nice! They came through for me when I had an issue with my labels printed through Canva. My labels came out amazing with saturated color! Thank you so much for helping me during crunch time for the holidays!
It's not easy to find services that provide good value, are reliable, are efficient, and have friendly staff, but that's the experience I've had Sir Speedy Richmond. I needed some court documents printed and fast and they really helped me out with no hiccups. Thank you!
This was my first time using Sir Speedy for my printing needs and I was very pleased with the service I received. Sonya was very responsive and completed my request in a timely manner. I will definitely be using Sir Speedy again for future needs.
Sir Speedy is my absolute favorite printing service in Richmond. The quality of work is always of a high standard and the name accurately reflects how quickly they turnaround a product. What I appreciate the most is the quality of their customer service and the expertise of their staff. I don't have to know a lot of "printing lingo" or design standards. With some basic guidance from me, they'll turnaround some really nice work. I also appreciate that they deliver the materials to my office, and then will encourage me to open and review the material before they leave! Once again, just really great customer service.
The lady who helped us was an angel in disguise! We showed up 5 min before close in desperate need to print two concert tickets. She printed the tickets for us and covered the small charge when we didn't have cash (the price was too low to use a credit card). We did everything wrong, and she did everything right! Bless you, Sir Speedy and your marvelous team!
My print projects are always ready and delivered faster than expected. Jay has been an excellent rep to work with and ensures my documents are properly formatted for quality prints. Although competitive reps have contacted me for business, I haven't considered switching at all from Sir Speedy.