Build brand awareness quickly and effectively.
In the fast-paced world of politics, time is of the essence. Tight deadlines, unexpected changes in direction, and compressed timeframes are all par for the course. This is where Sir Speedy comes in. Our name alone conveys our ability to respond quickly to your needs, but it's our comprehensive capabilities that truly set us apart.
When it comes to political campaigns, it takes more than just speed to succeed. You need a creative partner with experience, knowledge of best marketing practices, and a proven track record of success. Sir Speedy has been in the business for over 50 years, and we've honed our skills to help you develop cohesive marketing materials that will increase brand awareness and capture the attention of your target audience.
From printed materials such as postcards, flyers, yard signs, and posters, to digital assets like computer screensavers and social media graphics, Sir Speedy has the expertise to help you execute a well-rounded campaign. We can also provide unique features like step and repeat backdrops, door hangers, and other campaign tools that will set you apart from the competition.
With Sir Speedy as your one-stop-shop, you'll have the convenience of a single point of contact for all your campaign needs. We'll work with you every step of the way to ensure that your materials are delivered on time and on budget. So when you're ready to take your political campaign to the next level, give Sir Speedy a call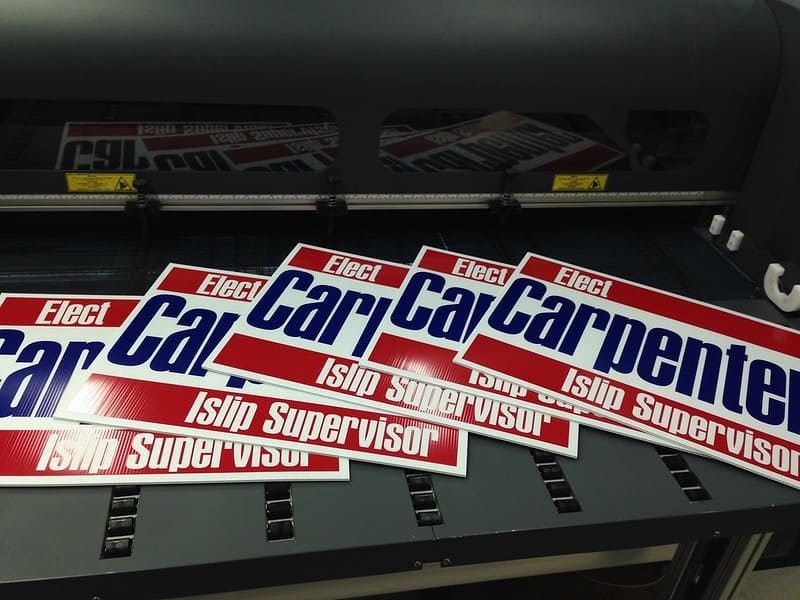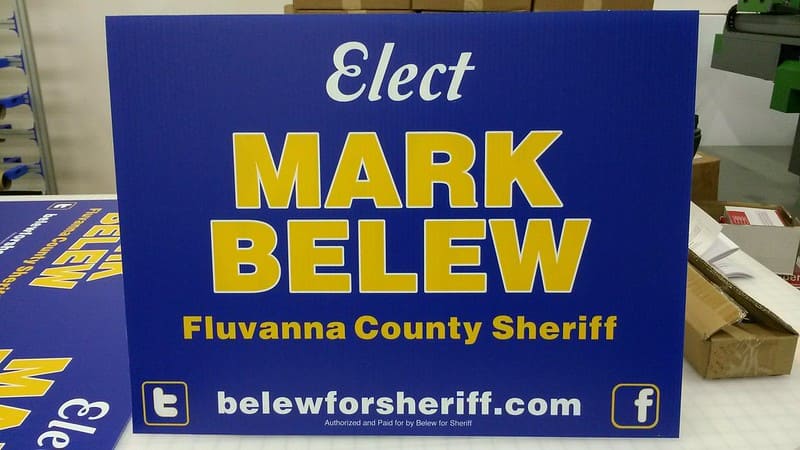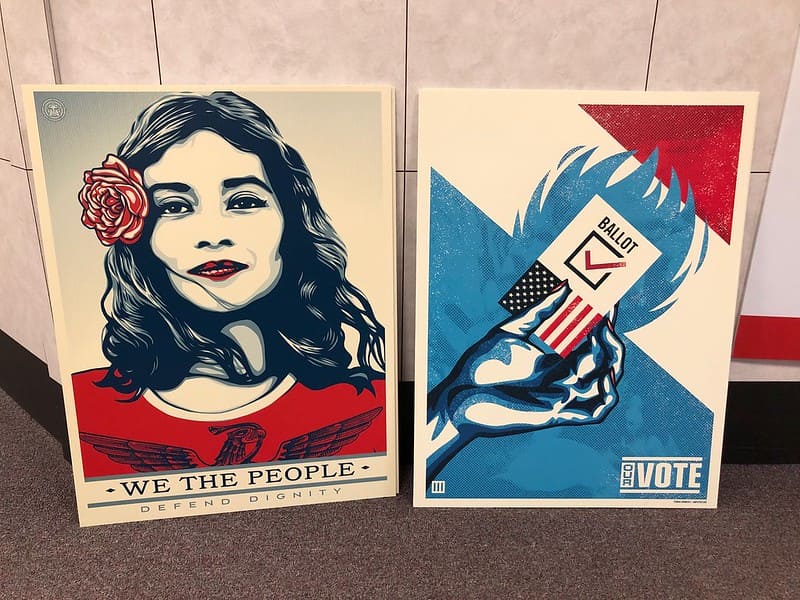 Sir Speedy Harper Woods
20304 Harper Avenue
Harper Woods, MI 48225
Business Hours
Monday: 8:30 AM - 5:00 PM
Tuesday: 8:30 AM - 5:00 PM
Wednesday: 8:30 AM - 5:00 PM
Thursday: 8:30 AM - 5:00 PM
Friday: 8:30 AM - 5:00 PM
Saturday: Closed
Sunday: Closed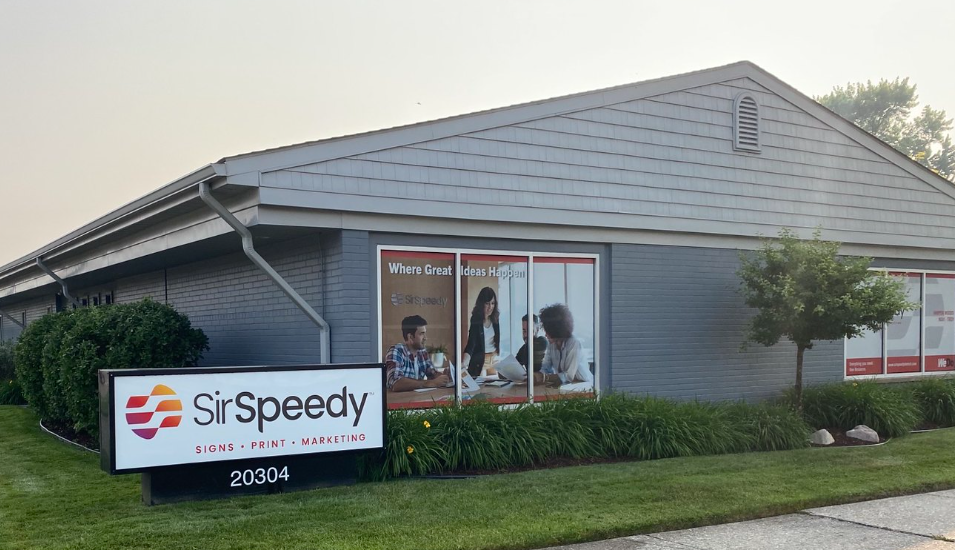 They made shower invitations and thank you notes for me. The staff was professional, patients and timely. The end product is amazing and I would highly recommend you use Sir Speedy for your printing needs.
I came to Sir Speedy to have them print some labels I designed for my coffee bags! As their name boasts they were speedy! They were also very courteous, knowledgeable, and the labels look great! So glad I chose to come to them with my company's labels!
We recently ordered our school's homecoming tickets through Sir Speedy. Everything was easy for us and perfectly done well within the timeframe we needed it done in. Every person we dealt with was professional and provided top notch customer service. We will definitely continue to use them in the future!
Excellent staff and customer service. Order was perfect and completed very quickly. Would recommend Sir Speedy for your speedy printing needs
We've done business with this location for all our shows since I took over and the staff is fantastic. Cathy, Liz, Deanna, and Nicole worked to get our rush/quick turnaround order done so we could get the advertising flyers out at one the first big shows of the season.
I have used Sir Speedy for my business needs for years and just recently needed them for some personal work as well. They were great as usual - prompt, courteous, fair priced, etc. I'm a customer for life!
I have used Sir Speedy for my printing needs for many years now, and they never disappoint! They have an amazing staff, who are very kind and friendly everytime I walk in. You can tell they take pride in their work because they'll always make sure that the customer is happy. Everything always turns out beautifully and I never doubt what they are capable of doing. The turnaround time is always sufficient and there is never lack of communication. I would highly recommend Sir Speedy.
Had a great experience with Sir Speedy Print. We had a last minute event planned for an all white party and dropped the ball on a nice backdrop for photos. They delivered just as the name states, SPEEDY! Highly recommend!
Thank you Sir Speedy. Wedding Welcome Sign, Wedding program fans are perfect! matches the Invitation I provided as a guide. Price was perfect!!! Definitely, will be using Sir Speedy again n the future!!
The double-sided color postcards they printed for me were excellent. They were able to turn them around quickly for significantly less than a local competitor. Kudos to Jill and her team!
We used Speedy to print event signage recently. They were indeed very Speedy with our order, offered to deliver it right to our home, and the quality was great. We will use them again in the future!
We have been working with Jill and Nicole at Sir Speedy Harper Woods for the past few weeks, and they are absolutely exceptional! Not only do they provide us with top-quality materials, but they are more than kind and willing to support with on-the-fly requests. My team is in the midst of a very fast paced project, and we couldn't have done half of it without their support :)
DelFrescoPure - Marketing
We used Sir Speedy for a last minute branding project for a tradeshow and it turned out amazing! Finished super quickly in amazing quality at a great price. We would definitely use this place again for quick, affordable and professional printing.
Our wedding sings canceled last minuets but Jill, Steve, and team we're about to get back to me right away with quotes and signage within a day, truly saved us!:)
I use Sir Speedy for the printing at the GP LIbrary. They do quality work in a timely fashion. We use them for banners, posters and the logo and hours on all our branches.
Great service and product! Bri was kind of enough to hand deliver our order to our office. She went out of her way every step of the way to make the process as easy as possible. We will use them in the future!
My company has been dealing for years now with Sir Speedy and we can't say enough on how amazing the whole team is. They are fast, efficient, courteous and always willing to rush our last-minute requests and produce excellent quality material... I would never change them as long as they treat us so well :-)
Sir Speedy Print is always friendly, professional, and creative. They take care of all of my business and personal projects, and I give them my highest recommendation.
Sir Speedy leaves up to their name. They have an excellent turn-around time, competitive pricing and very professional. I am very pleased with my interactions with them and have recommended several people to them.
When it comes to delivering Branding and Marketing needs to my clients I count on the team at the Harper Woods Sir Speedy. The team is the responsive and do great work. I count on them for creative problem solving ideas in delivery solutions. They will continue to be an extension of my small business team for 2023.
Love working with this crew! Speedy and excellent. I'm getting a lot of compliments on the finished product. So glad I found this great business.
Briana did an excellent job not only filling my order fast and accurately. She was pleasant and very professional to work with. I highly recommend Sir Speedy Detroit
Always a pleasure working with Sir Speedy printing. They are fast, friendly and always go above and beyond to make sure we are completely satisfied.
Sir Speedy Printing continues to impress with their professionalism and reliability. I highly recommend this amazing team for your next printing and/or design project.
I have been working with them both personally and professionally for about 8 years. They always go above and beyond for me. If you even et a chance to work with Deanna and Nicole they make an amazing team. So quick and such beautiful work.
Absolutely phenomenal service. Everyone we have spoken to at Sir Speedy is very kind on top of that. They delivered faster than we thought possible for a number of items for an event that we had on the other side of the state. All of the items we ordered came out beautifully. We are a non-profit and they will definitely be our go to for all of our fliers and other branded items in the state of Michigan. You couldn't ask for a better experience. Thank you for your great and fast work, Sir Speedy!
Sir Speedy (Harper Woods, MI) is fantastic! They are very responsive, fast, and knowledgable. I regularly work with Cathy, Jill, and Steve on design, production, and everything else! Really a wonderful staff. Thank you!
By far the best customer service you could every ask for, not to mention their very competitive prices. Since I started doing business with them close to four years ago I go nowhere else.
Sir Speedy was a great help to our business. Brie was so easy to work with. She has a great eye for color and is very knowledgeable about their products. We love our new business cards and stationary. Will use again!
This company is an absolute delight to work with. They are super communicative, professional and reasonably priced. Their product always looks awesome and they are the best at listening to the client's needs and offering suggestions. Sir Speedy is my forever printer.
excellent to work with, very smooth process from design to delivery. Getting ready to start another project with them. HIGHLY recommend!
I have worked with Kori at this location for many years through various companies I have worked at. She is very professional and always goes above and beyond. She has gotten orders and quotes requested completed "speedily"! If you need these types of services, she is for sure the person I would want to get the job done.
I've been going this place for a few years and they do an excellent job whatever they do and they're really nice people
Absolutely love doing business with Sir Speedy! Especially Kori, she is so responsive and helpful with any questions or concerns we've had. I love that she insists on making sure we're getting the exact product we're looking for and makes great suggestions to fit our needs. The graphic designers and entire team are awesome as well!
Always great customer service and quality!
1st time visitor, and I'm in love great service. Very fast, and very inexpensive. I would paid twice as much at FedEx. Will absolutely be back.
I highly recommend Sir Speedy St Clair Shores!! The staff is wonderful they always answer my questions and provide me with any help I need. The prices are comparable with other printers but Sir Speedy delivers!!! I love that feature!!! Our old printer messed up an order and told us they did not have the machinery to correct the folding problem, so I called Sir Speedy and they were able to do the folding I needed and have it ready the next day!!!
I have been working with Sir Speedy for many years on an annual printing project. They have been extremely helpful, kind, and efficient, and they always provide a beautiful product! I highly recommend them for any printing service.
I've been working with Tom at this location for the last few months. I appreciate his professionalism, attention to detail and knowledge of the print industry. I highly recommend working with this Sir Speedy!