Everything You Need
That's our mission. To provide the wide range of communications and marketing capabilities that assist you in running your business. We are passionate about delivering quality products and providing you with the best possible service. This means we are well versed in the latest technologies. Handle projects large and small, simple to complex, and take you from idea to final execution quickly and efficiently. If you have a lot to do with little time to waste, let us take care of it. Enjoy the ease and confidence of working with a local resource that's part of a nationwide network—Sir Speedy.
Show-Stopping Quality
WeDo beautiful. Elevate your business marketing with a creative partner who has been turning ordinary into extraordinary for more than 50 years. We're known for producing exceptional quality – polished and professional materials that make your brand shine. For superior print, signs and marketing, we're your go-to, one-stop resource.
Creative Solutions
WeDo smart. Bring us your challenges, and we'll work with you to solve them with our extensive spectrum of products and services. We understand business life is filled with everything from finding new customers and keeping the ones you've got, to implementing new technologies. Let's meet and get those creative juices flowing!
Out-of-the-Box Ideas
WeDo inventive. Fresh thinking is a competitive advantage in a crowded marketplace, so when you need a resource who can produce something inspiring, look to your local Sir Speedy. We're up on the latest marketing trends and innovations, collaborating with you to explore exciting new ways of achieving your business objectives.
Lean On Us
The marketplace is demanding, so it's nice to know you've got someone in your corner and in your neighborhood – Sir Speedy. We care about your success, and as a member of the business community, we're here to help you grow and thrive. Share your dreams and goals with us knowing we work with customers from nearly every industry. Our breadth and depth of knowledge streamlines workflow, getting you to the finish line faster. So, lean on what WeDo so you can do what you do best.
Sir Speedy Nashville BNA
1922 Air Lane Drive
Nashville, TN 37210
Business Hours
Mon - Thu 8:00 AM - 5:00 PM
Fri 7:30 AM - 4:00 PM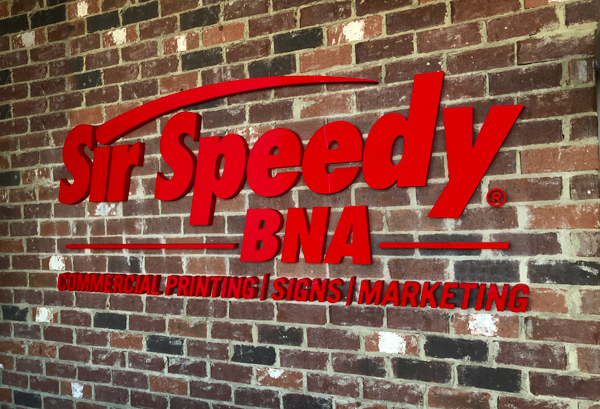 Sir Speedy has delivered exceptional service every time I've needed their services! When anyone in my industry needs print jobs, I always recommend this fantastic business.
I have always had wonderful experiences with the staff at Sir Speedy! Their products look fantastic and they get the projects completed quickly! Thank you so much!
I have been working with Sir Speedy BNA for over 25 years. They have provided outstanding customer service, on-time delivery and notification, and best of all quality product at a competitive price compared to on-line companies.
I can't say enough great things about these guys! I called from NJ with a small project that needed a quick turnaround to help one of our clients in Nashville at a show. Spoke with Logan who was incredibly kind and professional, and assured me it wouldn't be a problem to print and deliver this project to the client's hotel in record time - not only saving the day for them, but made us look like stars as well! Sir Speedy, you guys are our new favorite local printer! We'll definitely be using you guys again and again!
Awesome service and turnaround times at a fair price!
I appreciated the very prompt response to a very tight deadline. The job was completed on time and error-free; and that's been the experience of all my colleagues when working with Sir Speedy.
My project had a quick turn around and Logan took care of me promptly after I submitted a request on their website. He was also very knowledgeable and helped me make a few graphic adjustments. I'd highly recommend trying them out!!
There are not enough stars for this company - they are customer driven and as business owner myself I recognize the effort that is put into the quality of the product they deliver and customer service- I wouldn't use anyone else!!
I reached out to Sir Speedy about my wedding invitations and RSVP cards and they were handled quickly but with the utmost care and consideration! I had a wonderful experience and will certainly use them for additional wedding elements (itineraries for guests, programs for the big day, possibly Thank You cards, etc). So pleased!
They live up to their name, I called them first thing in the morning and they completed 50 beautiful Memorial Cards by the end of the day. Turned out better than I could have imagined, I would highly recommend them. A+++
Always done right, done fast and delivered with a smile. Edited again - in 2020 Fast turn around and excellent quality! Always our goto guys and gals.