We'll Deliver the perfect item straight to them
By teaming up with Sir Speedy, you can streamline your entire marketing promotion process. We offer a comprehensive range of services that go beyond simply sourcing the best products for your campaign; we also handle distribution. With an extensive selection of promotional products to choose from, we can effectively ship them out for you through our efficient fulfillment capabilities. Whether you need a basic bulk mail promotion or a complicated sales or marketing kit, our full-service capabilities can help you maximize your efficiency.
At Sir Speedy, we understand that marketing promotions can be complex and time-consuming, which is why we offer end-to-end solutions to simplify the process for you. From identifying the best products to suit your needs, to handling all aspects of the distribution process, we can help you manage every step of your campaign.
Our extensive range of promotional products covers everything from pens and mugs to custom apparel and high-tech gadgets, ensuring that we have the perfect item for your brand and budget. Our experienced team can help you choose the right product for your campaign and guide you through the design process to ensure that your branding is on point.
When it comes to distribution, we have the expertise and resources to efficiently ship your products to their destination. Whether you need to send out a few hundred items or several thousand, our fulfillment capabilities can handle the job with ease. We can even manage complex kitting and assembly projects to save you time and effort.
By collaborating with Sir Speedy, you can rest assured that your marketing promotion is in good hands. Our full-service capabilities can help you simplify the process, maximize your efficiency, and achieve your marketing goals.


Sir Speedy Orlando Commonwealth
621 Commonwealth Avenue
Orlando, FL 32803
Business Hours
Mon - Fri 8:00 AM - 6:00 PM
Weekends - Please Call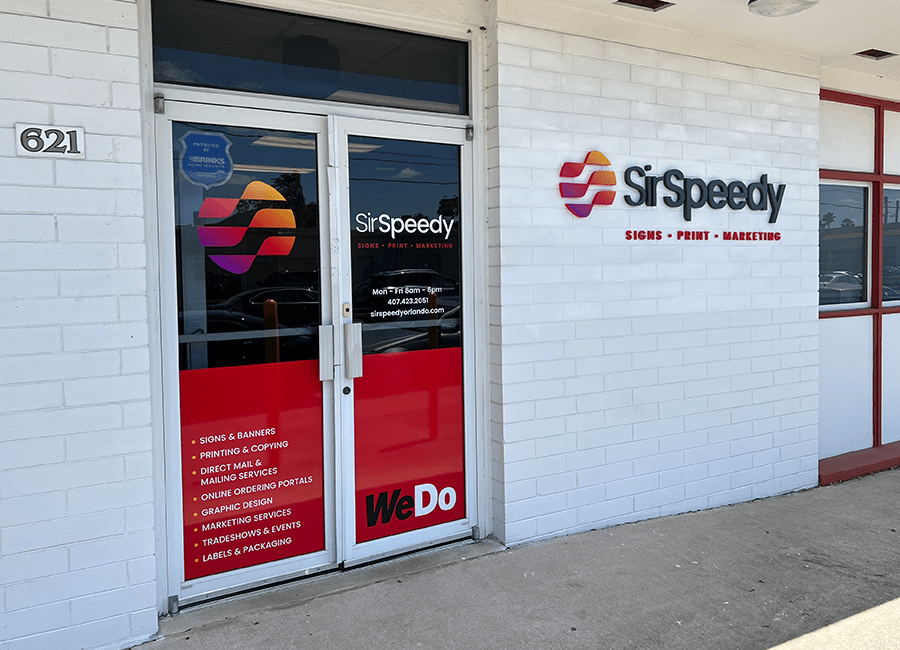 I'm not from Orlando, but was in town for business and had a last minute print request that Melissa and team delivered seamlessly! Their service turnaround time and response time for a quote were exceptional...plus their pricing was excellent. Just when you think customer service is a thing of the past, Sir Speedy shows up and gives you hope. Thank you so much, Melissa for helping us out. We are so appreciative and will use your business again, and again, and again when we are in Orlando!
Great Quality business cards. Customer service is excellent. Very easy to order and verify the cards online. Thank you for your service.
the team took care of every last detail, was super responsive to our needs. Would highly recommend sourcing this vendor for their quality work and customer service skill.
I Absolutely love this company. Michelle and the rest of the team has helped me so much in bringing my logo to life on a blank canvas. The timing was great, work was exceptional, and the product quality is worth every cent. I will continue to work with the company to assist with all marketing/printing and I highly recommend to others.
Love working with this company, Melissa is the best! Always so fast and excellent customer service. I would highly recommend this company. Have been a customer since 2018, and continue to get the best service.
I can always rely on Sir Speedy to have all my requests ready in time! Great quality and customer support.
I cannot say enough good things about this particular company. I am a printer based out of Philadelphia. I had a client that was in Orlando for work. She called in a panic with 3 different rush jobs on 3 different days. The team at Sir Speedy Orlando Commonwealth Ave printed 3 different jobs on 3 different days in hours and had the materials couriered direct to my clients hotel. Now that is GREAT customer service. Put this team at the top of your list!
Couldn't be happier with their service. The best thing to happen was an issue with the order - they reacted immediately and fixed it. Anyone can do a great job, but if you can correct a mistake so seamlessly it's like there was never a problem, you're golden. Shout out to Melissa Perez! She's incredible and I'll be sending ALL my printing projects here.
Fast and friendly service. They were able to get me what I needed with a quick turn around time. Super happy with the results!
Good decision to have found this company. Laurence was very polite and courteous from the 1st contact. All jobs were completed to complete satisfaction. We will place future orders there as well. This is the place to go!!!
Sir Speedy has been doing printing form Melrose Management Partnership for many years. They always are prompt with answering back on work orders and print jobs, and have helped tremendously when rush orders are a must. Being in the Community Management HOA business is sometimes hectic and fast moving, and Sir Speedy gets the work done quickly and efficiently. Thank you for all your years of servicing our account!
I am the Editor-in-Chief for a student run fashion, beauty and culture publication. My experience with Sir Speedy has been nothing but amazing. We are new to printing a magazine but Melissa at Sir Speedy has been the best help answering any questions we have and is super timely. We have gotten so many compliments on the quality of our magazine. I can't recommend them enough!
Melissa is our contact and she is always amazing at getting us quotes efficently, even with our tight turnaround deadlines.
For 16+ years Sir Speedy Orlando has been my go-to for digital printing, book binding, etc. They are experts with attention to detail. Always friendly and speedy!
We love working with Sir Speedy! They get us everything we need on time and looking good. I highly recommend them. Thanks for making us look so good for our clients.
Fast, affordable and great quality. My only criticism was their inability to provide an exact completion time at the time the order was placed. As this was my first experience placing a printing order, this may be standard operating procedure for the industry, it felt like an attempt to get us to place a rush and therefore more expensive order.
My show posters came out perfect and on time. Competitive pricing, too.
Sir Speedy did my business cards and had no problem using my branding materials and providing a fair quote in a timely manner. thanks Sir Speedy
Melissa went above and beyond to make sure our order for our trade show event arrived at our hotel. Can't recommend them enough for truly speedy, professional and kind service. Thanks!!
Absolutely amazing experience! I needed a same day banner for an event. With less than 3 hours before closing, Sir Speedy was able to produce an amazing banner. The quality is incredible. The staff was extremely helpful and friendly. I will definitely be using them again.
We had a great experience ordering thank you cards for our business. The cards were completed swiftly and look great!
Super friendly staff. Great communication and quality.
I've worked with Sir Speedy for a number of years on a wide variety of projects. Melissa is simply amazing. She is responsive and always gets back to me quickly to answer any questions and to quote projects. She is realistic in giving turnaround times and always meets the deadlines. I am always happy with the final product as well. Thank you!
I had the BEST experience with Sir Speedy! They printed out workbooks for me and they turned out GREAT! Truly can't say enough good things about them. Highly recommend them and can't wait to use their services again!
We needed copies of large blue prints made for our company. Sir Speedy picked the blue prints up, made the copies, then delivered the originals to one address and the copies to our address. Customer service was great and the copies were made and delivered quickly. The price was excellent. All around good service! If we have anything else, we will use Sir Speedy.