Everything You Need
That's our mission. To provide the wide range of communications and marketing capabilities that assist you in running your business. We are passionate about delivering quality products and providing you with the best possible service. This means we are well versed in the latest technologies. Handle projects large and small, simple to complex, and take you from idea to final execution quickly and efficiently. If you have a lot to do with little time to waste, let us take care of it. Enjoy the ease and confidence of working with a local resource that's part of a nationwide network—Sir Speedy.
Show-Stopping Quality
WeDo beautiful. Elevate your business marketing with a creative partner who has been turning ordinary into extraordinary for more than 50 years. We're known for producing exceptional quality – polished and professional materials that make your brand shine. For superior print, signs and marketing, we're your go-to, one-stop resource.
Creative Solutions
WeDo smart. Bring us your challenges, and we'll work with you to solve them with our extensive spectrum of products and services. We understand business life is filled with everything from finding new customers and keeping the ones you've got, to implementing new technologies. Let's meet and get those creative juices flowing!
Out-of-the-Box Ideas
WeDo inventive. Fresh thinking is a competitive advantage in a crowded marketplace, so when you need a resource who can produce something inspiring, look to your local Sir Speedy. We're up on the latest marketing trends and innovations, collaborating with you to explore exciting new ways of achieving your business objectives.
Lean On Us
The marketplace is demanding, so it's nice to know you've got someone in your corner and in your neighborhood – Sir Speedy. We care about your success, and as a member of the business community, we're here to help you grow and thrive. Share your dreams and goals with us knowing we work with customers from nearly every industry. Our breadth and depth of knowledge streamlines workflow, getting you to the finish line faster. So, lean on what WeDo so you can do what you do best.
Sir Speedy Prescott
1961 Commerce Center Circle
Prescott, AZ 86301
Business Hours
Mon - Fri 9:00 AM - 5:00 PM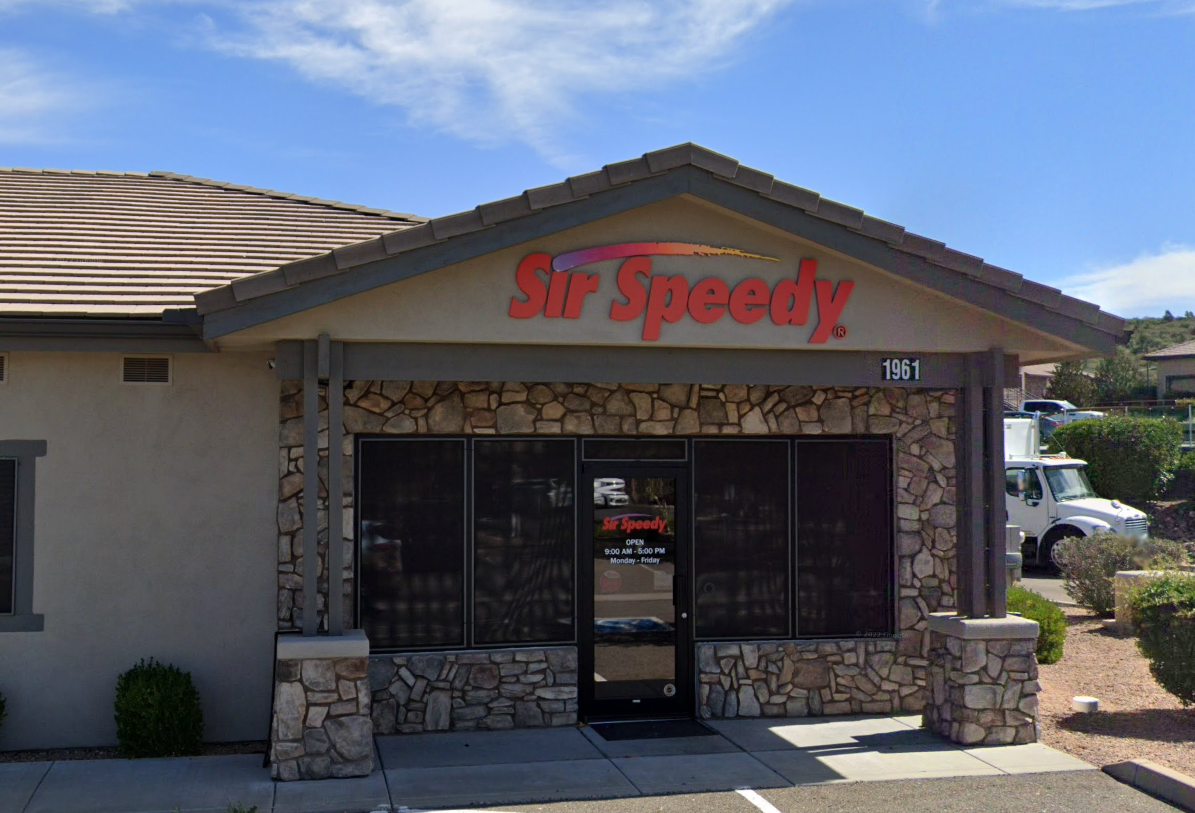 Sir Speedy Prescott has very helpful friendly staff who created a logo for my company from me just bringing in what I had drawn with some pens on paper and it was MUCH better than I ever thought it would turn out. Sir Speedy deserves the name because they are quick, the quality is on point, and I plan to use them for all my printing in the future. Highly recommend Sir Speedy Prescott! Thank you ladies!
The printing was accurate and delivered in a timely manner. One of my orders was apparently lost in the mail by the USPS, but Sir Speedy told me that they would reprint it at no charge and send it my way. I totally appreciated the level of customer service they provided and will definitely be using them and recommending them in the near future for all my printing needs! Thank you!
We're thankful to be working with Sir Speedy, Prescott who helps us create our collateral and manages our print jobs regularly.
Awesome experience! They were right on top of everything in a timely manner. Provided excellent service and updates. Product was everything I expected. Thanks Sir Speedy!
I have already left a Yelp review for this company but wanted to leave one on Google as well. I was looking for a company to help my company with some printing needs and Sir Speedy was great. They did everything to perfection and quickly had my order ready for me to pick up. My bosses were extremely happy with the cost to the point that we have already placed a second order with them for something else. Great communication!!!!! Great product quality!!!! Thank you.
Awesome place! Worked with our quick turnaround time, awesome staff, price seemed ok to me
The printing was done well and ready on time exactly when ordered. very pleased and will definitely use Sir Speedy for other printing jobs. Stephen Eubanks
American Financial Security uses Sir Speedy for their document shredding services. Our office is very pleased with the service we receive from them and happy to give them a five star review. They not only have helpful and friendly office staff, they have professional, friendly drivers too. Thank you Sir Speedy! We recommend Sir Speedy for their document Shredding based on their professional service and excellent pricing.
High level of service and immediate response to any request. Awesome staff!
Everyone at Sir Speedy in Prescott were fantastic. We went into the office on Monday to place an order that we needed for a memorial fundraiser we are having on Saturday and they came through for us. Thank you so much for your help and the stickers were amazing. I will come back again if I need anything in the future.
Very happy with how easy and quick my order went. Everything came out Great and quality was 2nd to none. Thanks Sir Speedy.
Incredible Staff! Attention to detail is stellar and the timeliness of communication and delivery was very appreciative. I am in Phoenix and it is worth the drive doing business with Sir Speedy of Prescott.
I have been using Sir Speedy for 10 years. They have always provided great service.
You are the just as you the best in the production of all of your products. The Staff is awesome so give them a raise or at least a big congrats!
The service, cost and customer service were all excellent. I will use them again.
I have used Sir Speedy for at least ten years, whenever I need new prescription pads, stickers for my business or anything to print. Sir Speedy does a great job every time, they have a Super staff, and they deliver directly to my office! They're the best!
We use Sir Speedy at our business for their professional shredding service. Their office is always professional and courteous and their driver, the same. We wouldn't take our business anywhere else!
All communication was provided in a professional manner from friendly staff. Pricing was reasonable resulting with quality products. Great service!!
They do a great job. Very responsive and professional. The materials are high qualify and I'll keep using Sir Speedy Prescott!
I have used Sir Speedy services for over 8 years in my businesses. I think that say it all. Their prices are very reasonable and the quality of service is a step above their competition. I am very grateful to have them apart of my teams and they are extremally reliable on delivery of work.
The staff and service are nothing less than exemplary. They are always fast, reliable, and accommodating. We cannot thank them enough.
It is always a pleasure to work with SIr Speedy!
This place does it all printing vehicle lettering great staff great designers give them an idea they will run with it you will not be let down might go to place for my business
Danielle and her team produce excellent quality products with great turnaround times. Highly recommend!
Very friendly environment and super helpful.
VERY fast, thorough and friendly
Robin and the team at Sir Speedy are fantastic to work with. We needed vinyl signage for doors at multiple locations and they helped with scaling the size and designs for each. They even reprinted one and had it to me the next day when I made an error on the logo! And, their installer was quick and professional. We are very happy with their work!
Fast, friendly, local, very reasonable. Sir Speedy on Commerce in Prescott is the prefect model of a locally-owned business that surpasses big chains. On my most recent trip I brought in personal documents for shredding, and was pleased with the price, speed, and their keeping the documents secure in a locked area. Thank you,Terri Davis and Deb Meyers! I will be back!
Our business has been using Sir Speedy for all of our marketing materials, business cards, stationary, window signs, etc. for the past several years. Sir Speedy has always been quick, creative and attentive in assisting us with our needs. Whether we have needed top-notch printing or a fully developed and integrated marketing campaign Sir Speedy has always delivered for us! Way to go Sir Speedy, you deserve this excellent review!