Blog Post | Oct 31, 2023
A Large-Format Printing Primer
When driving on the freeway or walking through an urban neighborhood, you see them. When attending tradeshows, at the airport or in a grocery store, you see them too. Large-format printed pieces are designed to be seen from a distance to help orient you, catch your eye and impart important information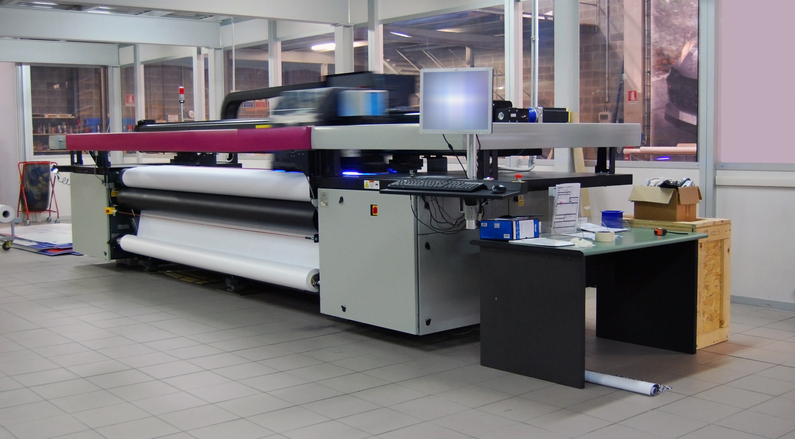 Large-format prints are the big, attention-getting visuals used to advertise, promote and share details with consumers, visitors or attendees. Created on specialized roll-to-roll or flatbed printers and printed on vinyl, canvas, glass, wood or paper, these prints are memorable, in-demand and essential to business success.
The
Large Format Printer Market: Global Forecast to 2023
explained that this specialized printing is in demand for textiles, outdoor advertising, packaging and technical printing. According to the report, the market is expected to grow at a rate of 4% this year.
Make a Big Impression
Large-format printing makes a big impression. It can be made temporary or permanent and can be portable. Printing at this scale is highly customizable and—as stated above—can be done on a variety of materials, in nearly any size and using special finishes or coatings. Large-format printing (and its wide-format cousin) gives businesses the opportunity to get creative while simultaneously distinguishing their brands.
Types of Products
There are several commonly seen products that fall under the large-format umbrella including the following:
Banners and Posters
– Showcase new products, announce a grand opening, advertise sales, promote your brand at events or share product details with these attention-getting standards. Often used to reach drivers and other passersby, banners and posters may be mounted on walls, fences, gates or hung within stores. Banners are generally made of vinyl, while posters can be scaled at different sizes for each use and are typically printed on specialized paper.
Wall and Window Graphics
– Generally used inside retail or office spaces, these pieces also greet foot traffic when customers enter your physical location. Temporary or permanent, you can use large-format printing to create custom wall wraps, wallpaper or murals for interior decoration of a space, as wells as decals, window clings or floor graphics.
Vehicle wraps
– Eye-catching and mobile, vehicle wraps communicate that your brand is polished, professional and credible. They also help raise brand awareness and may help with word-of-mouth referrals. These custom pieces can be printed on matte, chrome, vinyl or other materials to reflect your brand or organization.
Trade show displays
– It's important to have professional, appealing exhibits that make your company memorable and approachable. Use your company's brand guidelines to select colors and use your logo on banners, pop-up signs, freestanding displays, table linens, posters, graphics and other in-booth, large-format pieces.
Flags
– Portable and easy to set up at events, flags attract attention when they wave outdoors or direct traffic to your table or booth indoors. Like other items on this list, they can be used to make product announcements, showcase a sale, share details of a store/location opening or serve as a directional marker. Again, align with your brand's colors and use your logo to attract attention.
As you can see, the possibilities are nearly endless when selecting large-format printing. From banners to billboards and everything in between, our printing experts can help your business succeed.